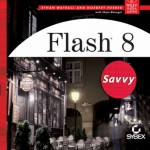 Flash 8 Savvy
With the help of Sham Bhangal, Ethan Watrall and I completed a third Flash book with greater depth and more advanced topics. "Flash 8 Savvy" was published in April of 2006.
Flash MX 2004 Savvy
This thorough revision to the original "Flash MX Savvy" was published in December of 2003.
Flash MX Savvy:
This book was co-authored with Ethan Watrall and published in June of 2002 by Sybex of San Francisco, CA.
Ethan and I both teach Flash classes. We approached writing the book as if it were a slow-motion class. We hope that our readers benefit from the continuity of content and explanations not only of the how, but the why.
Flash Savvy books on the Internet:
von Flashenstein web site (original site archive)
interactive media
,
Writing