The gradual accumulation of additional layers or matter.
Norbert Herber & Rowland Ricketts
This piece is the result of a shared creative process. Though we work in completely different media, through collaboration it became apparent that there was much in common with how we work, shared artistic sensibilities, and philosophical grounding. Collaboratively speaking, this process was neither a struggle nor negotiation. Our efforts were devoted to the exploration of ideas and theories that resonated between our individual practices.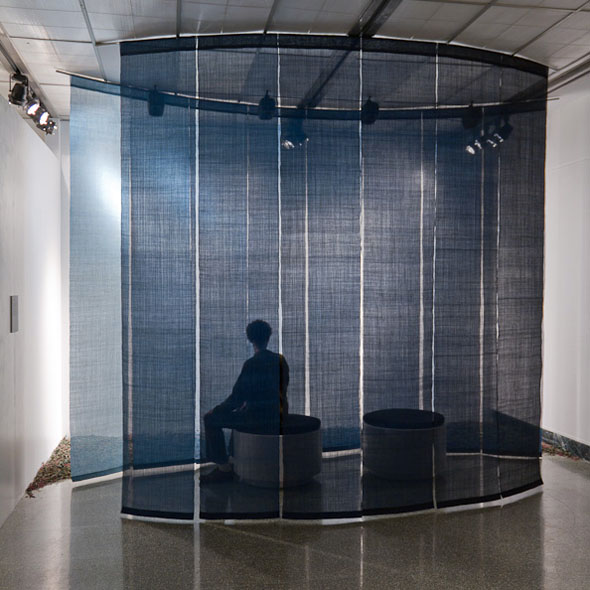 Our title paraphrases the definition of accretion. Processes of intentional and organic growth, and the ways in which those processes are immanent to a final artwork are central to this work. Every step involved in creating indigo-dyed textiles was either recorded or synthesized, and then layered in a sonic arrangement that is ever-changing and evolving. Similarly, the dye builds layer upon layer to deeper shades, enriched by the time and energy expended in growing, harvesting, and processing of the plants into the dye. What one experiences in the gallery is not an idealized version of the dyeing process but an immersion in the relationship between the artist and the materials, those material's immaterial substance, and the process that gives them form.
The artists
Norbert Herber is a musician and a sound artist. His work explores the relationship between people and sound within mediated environments—spaces created by software, sensors, speakers, and other mediating technologies. Field recordings, live instruments, and electronics are brought together in an ever-changing, generative mix of texture and tone that create sound environments specific to a place and time. His works have been performed and exhibited in Europe, Asia, South America, and in the United States. Current writings and projects are online at www.x-tet.com.
Rowland Ricketts utilizes natural dyes and historical processes to create contemporary textiles that span art and design. Trained in indigo farming and dyeing in Japan, Rowland received his MFA from Cranbrook Academy of Art in 2005 and is currently an Assistant Professor in Textiles at Indiana University's Henry Radford Hope School of Fine Art. His work has been exhibited at the Textile Museum, Cavin-Morris Gallery in New York, and Douglas Dawson Gallery in Chicago and has been published in Textiles Now, FiberArts, Selvedge, Surface Design Journal, and Hand|Eye Magazine. www.rickettsindigo.com
The gradual accumulation of additional layers or matter can be seen & heard as part of Waveforms, "an exhibition of interdisciplinary art works showcasing sound as the principle component. This exhibition explores, through an examination of creative and artistic practices, the interface of sound and new media technologies. The works in the exhibit include a number of trans-disciplinary interactions and collaborations that include sound in the context of visual and spatial artistic practices, including sound sculpture, installations, and performance works."
Other artists include Carrie Bodle, Jacob C. Hammes, Tesia Kosmalski, Lou Mallozzi, Shannon McMullen/Fabian Winkler, Stephanie Rowden, and Jesse Seay.
Waveforms will open to the public with a reception Friday, October 21, 6:00 - 8:00pm and be on view through Friday, November 18, 2011. An "illustrated conversation" (symposium) will be held Friday, October 21 from 2:00 - 4:00 pm followed by a performance by Chicago sound artist Lou Mallozzi from 4:00 - 6:00pm. For full details, see the Grunwald Gallery of Art.